Program Overview
The Montana Abandoned Mine Lands Program (AML) is responsible for reclaiming mines abandoned prior to 1977.  The Program's focus is coal mines of which the State has thousands.  The Program is funded through a federal fee on every ton of coal mined in Montana.    Oversite for the program is through the US Department of Interior Office of Surface Mining Reclamation and Enforcement (OSMRE).  The program was established through the Surface Mining Control and Reclamation act of 1977 (SMCRA).
General Resources
The Montana AML Program is responsible for monitoring and reclamation of Montana's  abandoned coal and hard rock mines. At nearly twice the size of the United Kingdom this is a daunting task for the three Project Managers that make up the AML Program. To further complicate matters the program has an annual budget that is currently under $3 million and is completely dependent on coal production in Montana for future funding.
Despite these large challenges the Montana AML Program is working hard to protect everyone from the dangers of abandoned mines and clean up the legacy of coal mining that occurred before there were environmental regulations. The current focus of the Program's work is abandoned coal mines, but in the four decades the program has existed, many hard rock mines have also been reclaimed.
Contacts
Abandoned Mine Lands 
Program Manager
Bill Snoddy (406) 444-6458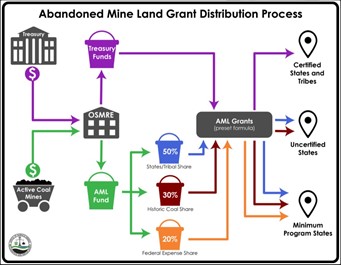 The Surface Mining Control and Reclamation Act of 1977 (SMCRA) created the Abandoned Mine Lands Program which is managed by the US Department of Interior Office of Surface Mining Reclamation and Enforcement (OSMRE). The legislation provides for the collection of a fee on every ton of coal mined in the United States. The 2006 amendments to SMCRA set the fee amount at 28 cents per ton for surface mined coal, 12 cents for underground mined coal and 8 cents for lignite coal. The fee is collected by OSMRE and 50% of each dollar collected is returned to the state where the coal was mined.
The Montana AML Program was established in 1980 and has been in operation for 41 years. The AML program is charges with reclaiming qualified coal mines abandoned prior to August of 1977; of which there are thousands. In 1989 Governor Stan Stevens certified to the Secretary of the Interior that all priority coal problems in Montana have been reclaimed and he requested permission to work on abandoned hard rock mines; again, there are thousands of these mines.
Over time more and more coal mine problems have emerged because the mines are aging, Old timber roof supports are rotting, and the ground is collapsing creating dangerous subsidences. Acid mine drainage from abandoned coal mines is also a large and ongoing problem that AML is trying to address. Currently, we have an estimated $130 million in unfunded work to do. The Program's budget is just under $3 million per year.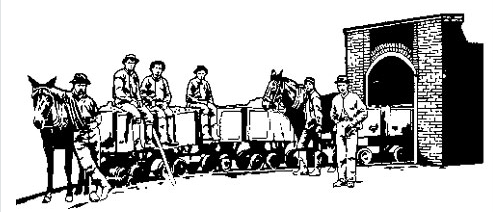 The State of Montana is well known for its scenic beauty as well as for its mineral resources. Today Montana's economy is heavily based on its diverse recreational opportunities. It also depends on the important contribution of industry sectors such as mining. Today, mining companies are required to provide full bonded reclamation plans before they are able to obtain permits to mine in the State of Montana.
Unfortunately, some mining practices of the past created conditions which still exist and threaten the welfare of Montana's citizens and the environment. The harmful effects of these practices have existed for decades and, unless direct action is taken, these conditions will continue to exist and degrade the state's environment. That is why the Montana Department of Environmental Quality's (DEQ) Abandoned Mine Reclamation Bureau was formed.
To date, Montana has addressed many long-abandoned mine and mill sites. These sites had dangerous structures and open shafts in the ground and were seriously degrading Montana's environment. Now these old mines and mills have been restored and revegetated. It would be difficult to tell that these reclaimed lands were mined in the past.
Today, although much has been done, much remains to be addressed. The Montana Abandoned Mine Reclamation Program is working to reclaim Montana's land to ensure a productive future for the State and to bring the land back to life.

Working together to protect our future Abandoned Mine Lands programs across the country prepare for reauthorization. What is Reauthorization? The website Our Work's Not Done!, provides an FAQ page to answer your questions.
WHY SHOULD ANYONE BE CONCERNED ABOUT AML SITES?
The public should be concerned about AML sites because AML sites exist in most regions of the country and they are a significant detriment to public health, safety, the environment, and economic wellbeing in the communities they impact.
WHAT IS "REAUTHORIZATION"?
The AML fee, on which both the federal and state/tribal AML Programs rely for the vast majority of funding, is set to expire in 2021. Without this source of funding, the states and tribes will be unable to continue operating their AML programs for long. In order for collection of the AML fee to continue, it must be "reauthorized" by Congress.
WHAT IS THE STATUS OF REAUTHORIZATION EFFORTS?
Given the expiration of AML fee collection authority in September of 2021 and the likely competing legislative and political priorities over the next three years, we anticipate that significant work on reauthorization of fee collection authority would be undertaken during the 116th Congress, including introduction of legislation and relevant oversight hearings
WHAT WILL BE LOST IF THE AML PROGRAM IS NOT REAUTHORIZED?
Without reauthorization of the AML fee, a very significant amount of AML work is likely to remain unaddressed. Dangerous mine hazards will persist and unforeseen AML emergencies will continue to occur, risking property damage, injury, and death for local citizens. The deep environmental impacts on the lands and watersheds so loved by citizens of and visitors to historic coal country will go unrepaired. Mine drainage treatment systems serving to restore the quality of water resources in mine drainage impacted watersheds will go defunct without funding for operation and maintenance. In many cases, the advances already made in restoration would be lost. Constantly felt safety, health, and environmental impacts will continue to contribute to economic struggle, preventing historic coal communities from fully taking part in the American economic prosperity that historic coal mining in their regions helped to bring about. In all of these regards, the AML Program's contribution is necessary for the fundamental stability that AML-impacted communities need to thrive. If the AML fee is not reauthorized, consideration must be given to how these communities will contend with the more than $10 billion in unfunded public liability and the immense health, environmental, and economic impacts represented by remaining coal AML sites.
Media