Program Overview
The Water Quality Planning Bureau is responsible for administering four vital functions related to the Clean Water Act. 
Visit the Clean Water Act Information Center on the Resources page to find information about the quality of Montana's rivers, streams, and lakes in relation to Montana's water quality assessments. These assessments are based on available statewide water monitoring data and information. The Clean Water Act Information Center also provides access to Montana's Water Quality Reports and List of Impaired Surface Waters, as well as online search and mapping tools.
Clean Water Act Information Center
---
Standards
Water quality standards consist of several parts:
Beneficial uses — Identify how people, aquatic communities, and wildlife use our waters
Numeric standards — Amounts of specific pollutants allowed in a body of water and still protects it for the beneficial uses
Narrative standards — Statements of unacceptable conditions in and on the water
Nondegradation protections — Extra protection for high-quality or unique waters and existing uses
Together, the beneficial uses, numeric and narrative standards, and nondegration protections provide the framework for achieving Federal Clean Water Act and Montana Water Quality Act goals and protecting Montana water resources.
---
Monitoring & Assessment
DEQ's Water Quality Monitoring and Assessment Section assesses whether state waters meet water quality standards and support beneficial uses. Beneficial use assessment is one step in the water quality planning process; it requires monitoring and informs Total Maximum Daily Loads (TMDLs) and water quality protection and restoration. Tracking changes in water quality may also be important to determine if conditions are improving or deteriorating over time. DEQ supports numerous professional and volunteer monitoring partnerships across Montana that align with our vision.
---
Watershed Protection
Watershed Protection section is responsible for administering the Nonpoint Source Program and TMDL program
Total Maximum Daily Load (TMDL) Program
The Total Maximum Daily Load (TMDL) Program identifies sources of pollution to streams, rivers, and lakes within Montana and determines how much pollution those waters can sustain and still fully support beneficial uses. Plans are then written that outline how to reduce pollution to those waters while offering ways to assist local communities with finding solutions to restore and maintain clean water.
Nonpoint Source Program
Nonpoint source pollution typically comes from diffuse sources, such as grazing, timber harvest, abandoned mine lands, irrigation, recreation, and septic systems. It includes a wide range of pollutants and conditions, including nutrients (nitrogen and phosphorus), heavy metals, sediment, loss of riparian habitat, streamflow alteration, and temperature changes. Montana's goal is to provide a clean and healthy environment by protecting and restoring water quality from the harmful effects of nonpoint source pollution. We believe this can best be achieved through voluntary implementation of land, soil, and water conservation practices.
---
Wetlands
Wetlands are valuable for providing flood and erosion control, enhancing water quality, and providing wildlife and fish habitat. Wetlands continue to be impacted and lost as roads are expanded, land is developed, and due to cumulative impacts from numerous activities such as draining, changes in land management, and landowner preference for open water ponds. DEQ's Water Quality Planning Bureau is responsible for coordinating and providing leadership to wetland conservation activities statewide. These projects range from an Evaluation of Wetland Impacts in the State of Montana, to Developing Education and Information about Montana Wetlands, to a Local Partnership composed of local government, wetland ecologist, and community volunteers to inventory wetlands for restoration and management needs.
---
Contacts
Water Quality Planning Bureau Contacts
---
Watershed Protection Section
---
Monitoring and Assessment Section
---
Water Quality Standards Section
Submit Data
DEQ provides detailed guidance to organizations, individuals, and laboratories on how to submit ambient water quality data to DEQ. Montana uses a system called the Montana EquIS Water Quality Exchange (MT-eWQX) to store water quality monitoring data, including physical, chemical, biological and habitat data, from locations across the state. Once verified, these data are submitted to EPA's Water Quality Portal, where they are publicly available.
The steps below are provided to help organizations and volunteers submit their data through DEQ's data portal.
---
Step 1: Prepare Your EDD
Data must be submitted to MT-eWQX in a specific electronic format known as an Electronic Data Deliverable (EDD). Data providers are required to download the MT-eWQX EDD and populate it with the project data to be submitted. Detailed guidance for populating the MT-eWQX EDD can be found in the MT-eWQX Guidance Manual. Data submittals in specific response to the department's biennial 'Call for Data' supporting water quality assessments have a specific guidance manual, which is provided below.
MT-eWQX EDD MT-eWQX Guidance Manual MT-eWQX Guidance Manual - Call for Data
Appendices:
---
Step 2: Validate Your EDD
After the MT-eWQX EDD is populated, all data must be validated using the EQuIS Data Processor (EDP). The EDP is a standalone application that allows data providers to check their EDD files prior to submission to ensure they are formatted correctly. The EDD must have a clean validation from the EDP prior to data submission to DEQ. Refer to the EDP Guidance Manual for detailed instructions.
EDP Guidance Manual Download EDP
---
Step 3: Submit Your EDD
In order to submit an EDD, the following are required:
Information about all the above requirements can be found within the MT-eWQX Guidance Manual.
If you need assistance during the EDD submittal process, contact Deanna Tarum or Jolene McQuillan.
---
Additional Information
The following field forms are provided by DEQ to assist with project data management:
Subscribe for Important Updates
Receive important updates about MT-eWQX, including when updated reference value lists are posted, anticipated outages for maintenance, or training opportunities.
Subscribe: MT-eWQX ListServ
---
Information for Laboratories
This link is provided to assist laboratories in producing a MT-eWQX compatible EDD. The requirements provided in this document are specific for laboratories and should not be used by data providers submitting data to DEQ.
NOTE: Labs are required to report both the Method Detection Limit (MDL) and Lower Reporting Limit (LRL) for each result. The MDL value as defined by EPA (40 CFR Appendix B to Part 136) is required. The LRL shall be the value the lab defines as the lower limit of quantitation.
The following templates are provided by DEQ to assist labs in producing a MT-eWQX compatible EDD:
---
Need Help?
If you need assistance during the EDD submittal process, contact Deanna Tarum.
Standards
Why Water Quality Standards
Protect water resources for uses such as fishing, swimming and other recreation, and sustaining fish, bugs, plants, and other aquatic life
Are a measure to identify polluted waters or healthy waters in need of protection
Guide the limits set on what regulated facilities can discharge to surface water
The federal Clean Water Act requires states to designate beneficial uses for all waters and develop water quality standards to protect each use.
States either develop their own criteria or implement federal criteria for evaluating water quality. These criteria must accurately reflect the latest scientific knowledge. They are based solely on data and scientific judgments about pollutant concentrations and their effects on the environment, aquatic life, and human health. Montana water quality criteria include both numeric and narrative criteria. Water quality criteria for each use class are detailed in the Montana Code Annotated. Additionally, a detailed map of Montana's use classes can be found HERE. (Please note that this map is data intensive, for mobile user or slow internet connections a pdf map is provided HERE) (Note: Montana does not designate use classes for Tribal Nations). Additionally, a map detailing Montana's Outstanding Resource Waters can be found HERE.
---
Numeric Criteria
Most of Montana's water quality criteria are numeric; that is, the criteria define precise, measurable concentrations of pollutants that if exceeded would harm the use. Montana's numeric water quality criteria are published in Circular DEQ-7 and Circular DEQ-12A.
Montana also has Nutrient Standards Variances which are published in Circular DEQ-12B.
---
Narrative Criteria
Some pollutants have narrative water quality criteria, which are statements (instead of specific quantities) that describe the desired water quality condition in terms of allowable ranges and maximums (e.g., water pH and temperature) or in terms of specific variation from natural conditions (e.g., water turbidity and color). Each use class defined in the rule has narrative criteria, and some narratives define an allowable change from naturally-occurring conditions. Naturally-occurring conditions are determined by reviewing historical data for a waterbody, if available, or by comparing conditions with a reference waterbody, an unaltered or otherwise in its most natural condition.
Montana's water quality standards and details of how water quality standards are implemented in point-source discharge permitting are contained in Montana Administrative Rules. All current state water rules and Montana water quality standards are available on the Water Quality Regulations and Forms page.
---
Nondegradation
Nondegradation protections maintain high quality waters from deterioration. Montana's Nondegradation policy provides three levels of protection for surface waters:
Existing uses of the water body must be maintained and protected.
High water quality (water quality better than the applicable water quality standard) must be maintained unless a lowering of water quality is necessary to accommodate important economic and social development.
Exceptional characteristics of specific waters designated as outstanding, very sensitive, or unique resources -- called outstanding resource value water -- must be maintained and protected.
---
For more information: Montana Code Annotated (MCA 75-5) Water Quality Classification & Standards
---
Yellowstone River Arsenic Standards
Nonanthropogenic Standards - External Entity Guidance
The Montana Department of Environmental Quality (DEQ) has developed guidance for cases where an entity external to the DEQ is interested in pursuing a modification to an existing water quality standard because the existing standard may be more stringent than the nonanthropogenic condition, as provided for in 75-5-222(1), MCA. A draft version of this guidance was presented to the Nonanthropogenic Standards Workgroup on May 8, 2020 for comment. The final version and the material presented at the May 8th Workgroup meeting are provided below:
---
---
The Federal Clean Water Act requires that states review their water quality standards every three years and solicit input on the need for revising or adding to state standards. The review helps set priorities and a work plan for water quality standards development and telemarketing. On February 12, 2020, Montana opened water quality standards for public review and comment, this open comment period will end on June 10, 2020. You are invited to submit data, views, or arguments concerning water quality standards either orally or in writing at the hearing. Written data, views, or arguments may also be submitted to: William Howard George, Department of Environmental Quality, P.O. Box 200901, Helena, Montana, 59620-0901; telephone (406) 444-6491; or email: William.George@mt.gov; no later than 5:00 p.m. on June 10, 2020. Or submit your comments online here http://comment.cwaic.mt.gov/commentpage.aspx?cmntkey=0fJNS65qh7. Additionally, on June 10, 2020, the Board of Environmental Review will hold a public hearing. Due to the guidance issued by the Governor of the State of Montana on March 26, 2020, regarding the COVID-19 public health situation, the public hearing will be held virtually via the Zoom meeting platform and will be recorded. Persons wishing to attend the public hearing need to register in advance with Zoom. Registration with Zoom may be made at the following link: https://mt-gov.zoom.us/j/9886583910?pwd=c0tUMm5Nd2F2OHhoWlJwd1loRnIyQT09. After registering, you will receive a confirmation email containing information about joining the hearing. If you have any questions, please contact Sandy Scherer, Paralegal, at (406) 444-2630 or sscherer@mt.gov.
Montana's numeric water quality criteria are published in Circular DEQ-7.
Selenium Standards for Lake Koocanusa & Kootenai River Rulemaking
On September 24, 2020 the Board of Environmental Review (board) initiated rulemaking regarding amendments of Administrative Rules of Montana (ARM) 17.30.602 and a proposed rule, NEW RULE l, pertaining to selenium standards for Lake Koocanusa and the Kootenai River. Proposed NEW RULE l contains two classes of selenium standards; fish tissue standards, which limit the amount of selenium allowed to accumulate in different tissues, and water column standards, which are derived from bioaccumulation modeling and intended to limited selenium accumulation in fish tissue. Proposed fish tissue standards are applicable to Lake Koocanusa and the mainstem Kootenai River include 15.1 mg/kg (egg/ovary), 11.3 (mg/kg) (muscle), and 8.5 mg/kg (whole body). Proposed water column numeric standards for total dissolved selenium are 3.1 μ/L for the mainstem of the Kootenai river and 0.8 μ/L for Lake Koocanusa. On December 11, 2020 the board voted five to one to adopt amendments of ARM 17.30.602 and proposed NEW RULE l. The standards were submitted to the U.S. Environmental Protection Agency for approval under the federal Clean Water Act and approved on February 25, 2021.
Copies of any of these documents may also be obtained by contacting Lauren Sullivan at (406) 444-5226 or Lauren.Sullivan@mt.gov
The Department of Environmental Quality continues to work with the British Columbia Ministry of Environment and Climate Change Strategy (BC-ENV) and the Lake Koocanusa Monitoring and Research Working Group (LKMRWG). The LKMRWG is a bi-national, multi-stakeholder work group comprised of three committees; Steering Committee, Monitoring and Research Committee (MRC), and the Selenium Technical Subcommittee (SeTSC). The department and BC-ENV co-manage a wiki website for items related to the LKRMWG including; meeting agendas, meeting summaries, data, literature, technical reports, sampling and analysis plans, and more. Lake Koocanusa Wiki Site
Rulemaking Background: In 2021 the 67th Montana Legislature enacted Senate Bill 358 (codified at 75-5-321, MCA).  Senate Bill 358 requires the department to adopt rules related to narrative nutrient standards in consultation with the advisory nutrient work group.  Nutrients, in this context, refer to total phosphorus and total nitrogen concentrations in state surface waters.  The rules are required to provide for the development of an adaptive management program which allows for an incremental watershed approach for protecting and maintaining water quality. The department convened the nutrient work group in May 2021 and held meetings approximately bimonthly through the end of October 2021 to adopt a comprehensive rule package related to narrative nutrient standards. Despite a concerted effort by the department and the nutrient work group to develop a comprehensive rule package, there remains a substantial amount of work needed for the department to fully address the concerns of multiple parties. Rather than immediately move forward with a comprehensive rule package, the department has opted to adopt New Rule I, which establishes the basic elements of an adaptive management program per Senate Bill 358.  Proposed New Rule I provides a framework for the department to follow as it continues to meet and consult with the nutrient work group and work toward completion of the comprehensive rule package, to be adopted later in 2022.
Opportunity to Comment:  On February 8, 2022, at 2:00 p.m., the department will hold a public hearing in Room 111 of the Metcalf Building, 1520 East Sixth Avenue, Helena, Montana, to consider the proposed amendments and adoption of the New Rule I.  The department is committed to preventing the spread of COVID-19 and promoting the health and wellness of others.  Members of the public may participate either in-person or virtually.  For in-person meetings, while face masks are not required, meeting attendees are welcome to wear masks.  If you are not feeling well, please do not attend the in-person meeting.  Information on how to attend the hearing remotely via Zoom is provided in the link to MAR Notice No. 17-420 provided below:
Additional information about the rulemaking can also be obtained by contacting Michael Suplee, PhD at msuplee@mt.gov
Monitoring & Assessment
DEQ monitors chemical, physical, and biological properties of our state's rivers, streams, lakes, and wetlands. High quality data is necessary to support decision-making. DEQ monitors water quality to:
Educate people about water quality;
Inform watershed restoration and protection plans;
Track trends in water quality;
Investigate water quality problems, threats, and improvements;
Assess whether waters meet water quality standards and support beneficial uses;
Evaluate sources of pollution;
Support studies that determine total maximum daily load (TMDL) development;
Establish baseline conditions;
Develop water quality standards.
Watershed Protection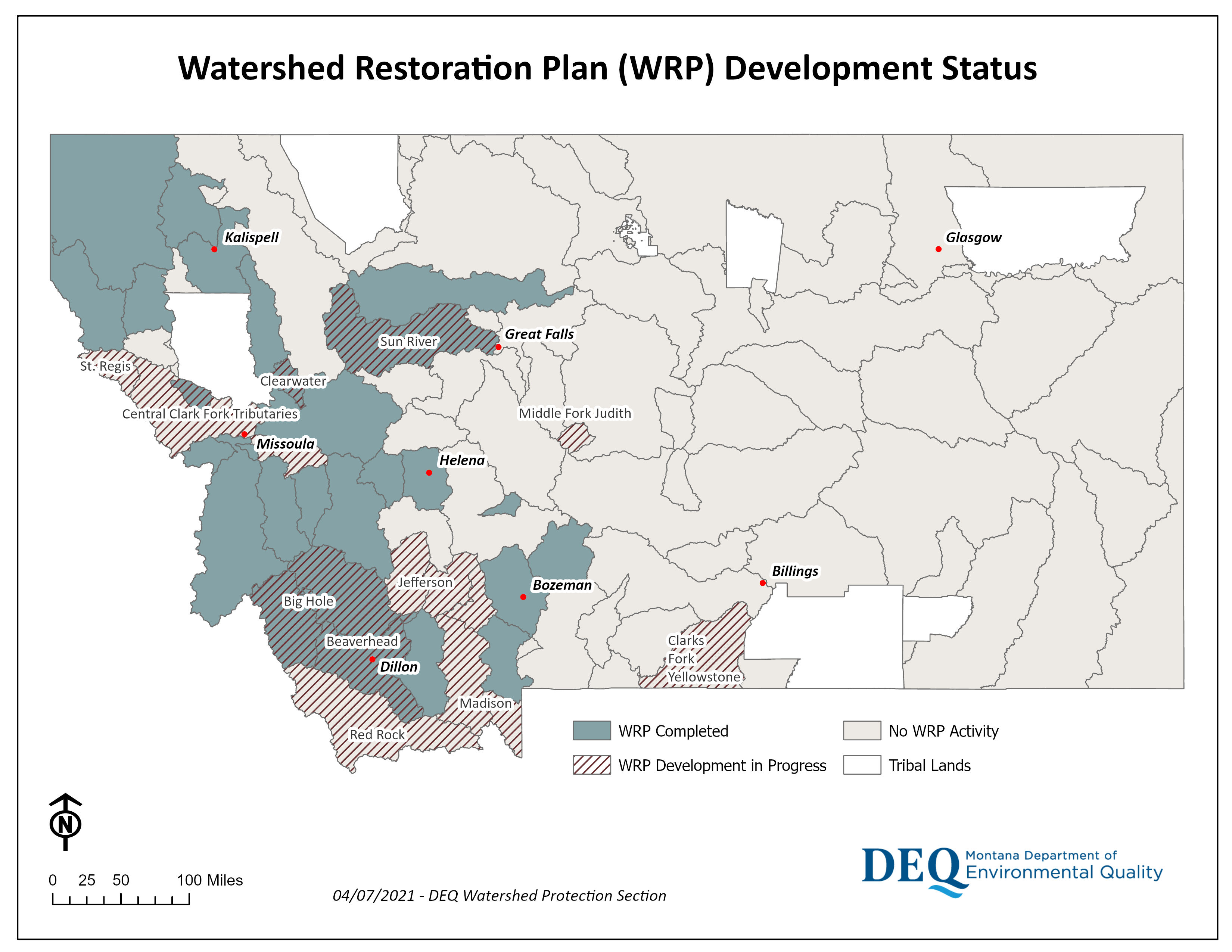 Montana DEQ encourages the development of locally-led Watershed Restoration Plans (WRPs) as a means of charting a path to improved water quality. All 319-funded projects must implement practices identified in a DEQ-accepted Watershed Restoration Plan.
| WRP | Sponsor | Status |
| --- | --- | --- |
| Beaverhead | Beaverhead Watershed Committee | Accepted 2014, under revision, will include Red Rock |
| Bitterroot | Bitter Root Water Forum | Accepted 2020 |
| Blackfoot River | Blackfoot Challenge | Accepted 2014 |
| Central Clark Fork Tributaries |   | Under Development |
| Clarks Fork Yellowstone |   | Under Development |
| Clearwater | Clearwater Resource Council | Under Development |
| Deep Creek | Broadwater Conservation District | Accepted 2014 |
| Flathead Lake | Flathead Lakers | Accepted 2014 |
| Flathead Stillwater | Flathead Conservation District | Accepted 2017 |
| Flint Creek | Granite Headwaters Watershed Group | Accepted 2014 |
| Kootenai Basin | Kootenai River Network Inc | Accepted 2015 |
| Lake Helena | Lake Helena Watershed Group/Lewis & Clark Water Quality Protection District | Accepted 2016 |
| Little Blackfoot | Trout Unlimited | Accepted 2016 |
| Lolo Creek | Lolo Watershed Group | Accepted 2013 |
| Lower Clark Fork | Lower Clark Fork Watershed Group | Accepted 2019 |
| Lower Gallatin | Greater Gallatin Watershed Council | Accepted 2014 |
| Lower Jefferson River | Trout Unlimited | Under Development |
| Madison River | Madison Conservation District | Under Development |
| Miller Creek | Missoula Valley Water Quality Protection District | Accepted 2018 |
| Middle and Lower Big Hole Watershed | Big Hole Watershed Committee | Accepted 2013, Under Revision |
| Middle Fork Judith | Trout Unlimited | Under Development |
| Ninemile Creek | Trout Unlimited | Accepted 2013 |
| Rock Creek | Trout Unlimited | Accepted 2018 |
| Ruby | Ruby Watershed Group | Accepted 2015 |
| Shields River Watershed | Park Conservation District | Accepted 2012 |
| St. Regis | Trout Unlimited | Under Development |
| Sun River | Sun River Watershed Group | Accepted 2012, Under Revision |
| Swan Basin | Swan Ecosystem Center | Accepted 2012 |
| Teton River | Teton Watershed Group | Accepted 2010 |
| Thompson River | Lower Clark Fork Watershed Group | Accepted 2018 |
| Upper & North Fork Big Hole Watershed | Big Hole Watershed Committee | Accepted 2012 |
| Upper Clark Fork River Tributaries | Watershed Restoration Coalition | Accepted 2012 |
| Upper Gallatin River | Blue Water Task Force | Accepted 2012 |
| Upper Jefferson | Jefferson River Watershed Council | Under Development |
---
Each Watershed Restoration Plan must address nine minimum elements.
Identification of causes of impairment and sources of pollution.
An estimate of the pollutant load reductions needed to achieve water quality standard
A description of the nonpoint source management measures needed to achieve pollutant load reductions.
An estimate of the technical and financial assistance needed to implement the management measures.
An education and outreach component to encourage public participation in designing and implementing the management measures.
A reasonable schedule for implementing the management measures.
Milestones to gauge progress in implementing the management measures.
Criteria for determining to what extent management measures are reducing pollutant loads and improving water quality over time.
A monitoring plan for collecting the data necessary to evaluate improvements based on the criteria above.
---
Through the 319 Project Program, DEQ provides approximately $1,000,000 each year to local watershed groups, conservation districts, educational institutions, and government entities to design and implement on-the-ground projects that reduce and prevent nonpoint source pollution. Increasingly, DEQ is focusing funding on projects that will restore natural processes (e.g., stream channel migration, floodplain connectivity, native riparian revegetation) and are likely to result in measurable improvements in water quality. Check out the Interactive Projects Map to find out what we've been funding.
Funding Source: The United States Environmental Protection Agency (EPA) under Section 319(h) of the Federal Clean Water Act.
Total Funding Available: Approximately $1,000,000 annually.
Individual Awards: Recommended: $10,000 to $250,000 per project.
Fiscal Year 2022 Funding Breakdown
Funding will be divided into 3 pots, with unused funds from the Focus Watershed and Mini-Grant pots to be redistributed into the General Projects pot.
General Projects
Estimated Total Amount Available: $400,000 + any unused funds from the other two pots.
Recommended Range for Funding Requests: $10,000-$250,000
Focus Watershed Projects
Estimated Total Amount Available: $500,000
Recommended Range for Funding Requests: $10,000-$250,000
Specific Eligibility Requirements: Projects located in the Bitterroot watershed.
Mini-Grant Programs
Estimated Total Amount Available: $100,000
Recommended Range for Funding Requests: $30,000-$60,000
Cost Share: A 40 percent cost share (match) is required. The match must be from non-federal sources (state, local, private), and may include in-kind donations of time and resources contributed to completion of the project. Use the following formula to calculate the amount of non-federal match required for your project: ((319 dollars requested)/.60) – (319 dollars requested) = required non-federal match
---
Applicant Eligibility:
Applicants must meet the following criteria:
Be a governmental entity or a nonprofit organization. A governmental entity is a local, state, or federal organization that has been established and authorized by law. Nonprofit organizations are identified as having a tax-exempt declaration of 501(c)(3) from the Internal Revenue Service.
Be registered with the Montana Secretary of State to do business in the state of Montana.
Have the necessary liability insurance, and be in compliance with the Workers Compensation Act.
Project Eligibility
Projects must meet the following minimum requirements:
Address nonpoint source pollution.
Implement actions consistent with recommendations in the current Montana Nonpoint Source Management Plan.
Implement activities or practices identified in a DEQ-accepted Watershed Restoration Plan
Address impairments identified on Montana's 2020 List of Impaired Waters. In some instances, projects on streams that are not listed as impaired may be acceptable. These projects must reduce pollutant loading to an impaired, downstream receiving water OR protect existing uses from becoming impaired.
Be completable within three years. (Note: In some instances, sponsors may be encouraged to apply for funding for design and permitting, and then come back and apply for funding for actual construction in a subsequent year.)
Projects addressing stream flow through improved water use efficiency must include reasonable assurance that unused water will remain in the stream (e.g., through a change of use to instream flow, or a signed commitment from the water right holder).
Projects involving grazing management (e.g., riparian fencing, creation of riparian pastures) must include a grazing management plan as a task deliverable.
Projects involving riparian or wetland buffer creation must have a minimum buffer width of 25 feet, as measured from the water's edge. If the buffer must be less than 25 feet in some places to accommodate bridges, water gaps or other infrastructure, the buffer should be made proportionately wider in other areas.
The following activities are NOT eligible for funding:
Development of a Watershed Restoration Plan (WRP).
Activities required as a condition of a point source (MPDES) discharge permit.
Watershed characterization studies.
Pollutant source identification.
Water quality monitoring, except for monitoring the effectiveness of a current, 319-funded project.
Statewide education and outreach campaigns.
Projects whose primary purpose is to protect infrastructure from natural stream channel migration.
Use of non-native plant species in restoration projects.
---
| Date | Event |
| --- | --- |
| August 5, 2021 | Issue of FY2022 Call for Applications |
| Until Wednesday, 10/27/2021 at 5:00 pm | DEQ will ensure staff availability for answering questions, reviewing draft applications, and providing other assistance. |
| Friday, 10/29/2021, 5:00 pm | Signed applications and all attachments due to DEQ by 5:00 pm |
| Wednesday, 11/17/2021 | Project sponsor presentations and Agency Review Panel discussion |
| Friday, 12/3/2021, 5:00 pm | Notice of Intent to Award is sent to project sponsors |
| 12/6/2021 through 1/31/2022 | Contract development |
| July/August 2022 | Funding becomes available |
---
All project sponsors must thoroughly read the Call for Applications. All project sponsors are encouraged to contact a member of the DEQ Nonpoint Source staff prior to submitting their application (see "Contacts" tab below). If contact is made soon enough, we are often available to review draft applications, provide pre-application site visits, and offer suggestions to help improve the competitiveness of your application.
---
The following applications were submitted for Fiscal Year 2022 funding consideration:
---
319 Reporting Guidance:
Additional Resources
---
The Department of Environmental Quality's nonpoint source program staff work with watershed groups, conservation districts, and state and federal agency partners to provide training, encourage the adoption of sustainable best management practices, and respond to emerging water quality issues. We frequently respond to water quality-related questions, provide on-site project consultation for potential projects, assist with watershed planning efforts, and help connect groups with appropriate funding partners and resources. Please contact any of our staff below for assistance
DEQ provides limited funding for education and outreach through our E&O Mini-Grants Program, administered by Soil and Water Conservation. We are also often available to provide group presentations on a wide range of watershed health topics. DEQ provides significant support to watershed groups through partnerships and joint projects with the Montana Watershed Coordination Council, Montana Association of Conservation Districts, and state and federal agency partners.
Check out the education and outreach materials below that the 319 Program helped fund.
Each year, DEQ reports on nonpoint source program achievements and activities. Click on the links below to see copies of past Annual Reports.
Every five years, Montana updates the state Nonpoint Source Management Plan to reflect new approaches and emerging priorities. The current Plan may be viewed by clicking on the links below.
Wetlands