Smoke Forecast for Thursday, July 21, 2022 2:00 PM
Brandon McGuire
July 21 2022
Current Conditions
Air quality in much of the region has been Good throughout today, however concentrations in Southwest Montana have been the most elevated, primarily due to smoke coming from the Moose Fire burning in Idaho. Dillon saw overnight concentrations reach Unhealthy levels, then made its way through Unhealthy for Sensitive Groups and Moderate, before settling near the cusp between Good and Moderate midday today . Butte, Seeley Lake, Libby, and Broadus have all had some Moderate impacts today as well. As can be seen on the smoke analysis and satellite imagery below, light smoke is visible over Southeastern Montana, affecting particulate levels there as well. Yesterday's 24-hour concentrations put Dillon and Butte at Moderate, all other sites at Good.
See the latest ARA report from the Moose Fire here!
Notable fire activity:
The Moose Fire, burning Northwest of Salmon, Idaho, started on Sunday, and is estimated at 20,648 acres. It is reported as showing extreme fire behavior with uphill runs, short crown runs, and long-range spotting.
The Hog Trough, 17 miles east of Hamilton, Montana, started by lightning on Sunday, is currently at 263 acres. The fire is burning in an old fire scar from the fires of 2000 with heavy fuels, dead standing trees, and downed timber. Minimal growth is expected in the next 12 hours.
The Moors Mountain Fire, near the Gates of the Mountains Wilderness, started by lightning on Saturday, is 94 acres. Warm temperatures and lower humidity levels led to an increase in fire activity on Wednesday, July 20, with the most significant fire behavior being isolated single tree torching.
Today's satellite smoke analysis shows light to heavy smoke in southwest Montana: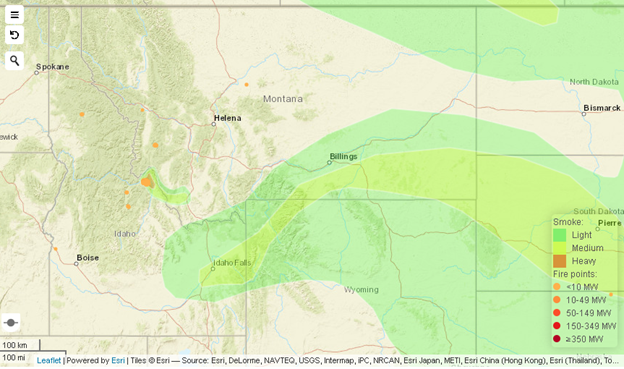 Forecast
Like yesterday, the zonal flow and weak ridge will keep hot, dry, and gusty conditions again today. A weak upper-level low-pressure trough approaching Friday will cool things a bit and may bring some showers to Northwest Montana. This will also be accompanied by gusty winds the potential for active weather through Friday night. NWS MSO office issued a Fire Weather Watch from Friday afternoon through Friday evening for Deer Lodge and Beaverhead counties. A large upper-level ridge is expected to build over the Pacific Northwest, which will affect next weeks patterns, both with the potential for some shortwaves out ahead of it, and some hot and dry conditions as the ridge makes its way east.
The largest source of smoke for our area is currently the Moose Fire, as the westerly winds push its smoke across the region, mostly affecting Southwest Montana, and Dillon specifically. Concentrations have generally improved throughout today, but levels are expected to worsen again in Southwest Montana as the day turns to night, and solar heating provides less help keeping the smoke off the ground. Expect Moderate conditions through today in Southwest Montana, dipping into Unhealthy for Sensitive Groups overnight. Southeastern Montana will likely continue to see Moderate conditions throughout the day and night. Conditions can change quickly as weather could stimulate active fires and the likelihood of new starts increases. Please keep track of concentrations at todaysair.mt.gov or the Fire and Smoke Map.
Smoke is forecasted blowing across southwest Montana in the most recent HRRR-smoke run: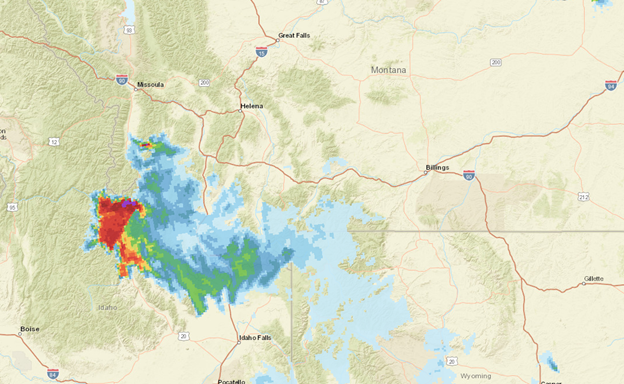 Source:  HRRR-smoke
Summary
Conditions are very similar to yesterday, with the Moose Fire currently the dominant source of smoke, mostly affecting Southwest Montana. Dillon has seen the largest impacts overnight last night, likely to get hit again tonight. Southeast Montana is also seeing some light smoke, elevating particulate levels. Currently, most of the state is Good to Moderate, but expect levels to reach Unhealthy for Sensitive Groups to Unhealthy overnight, downwind of the Moose Fire.
Visible smoke from the Moose Fire and over Southeastern Montana: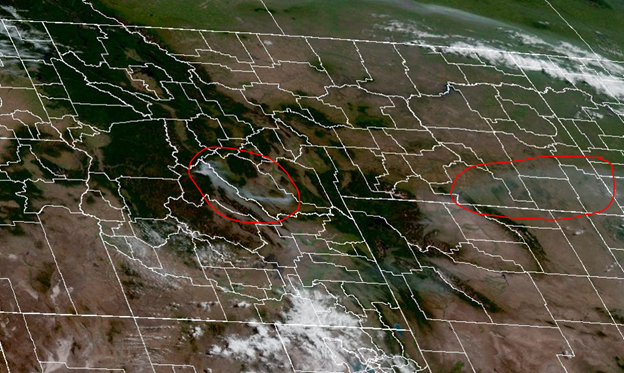 ---
Tags: Smoke Forecast 2022