Smoke Forecast for Sunday, July 16, 2023 9:00 AM
Current Conditions
An Air Quality Alert has been issued for Big Horn, Blaine, Carbon, Carter, Cascade, Choteau, Custer, Daniels, Dawson, Fallon, Fergus, Garfield, Glacier, Golden Valley, Hill, Judith Basin, Liberty, McCone, Musselshell, Petroleum, Phillips, Pondera, Powder River, Prairie, Richland, Roosevelt, Rosebud, Sheridan, Stillwater, Sweet Grass, Teton, Toole, Treasure, Valley, Wheatland, Wibaux, and Yellowstone Counties due to elevated particulate levels. The decision is based on 24-hour trends expected to be in the Unhealthy for Sensitive Groups or worse range, and potentially exceeding the 24-hour National Ambient Air Quality Standards over the next day.
Wildfire smoke continues to impact the eastern half of Montana but conditions are gradually beginning to improve compared to early Saturday. At 8 AM Sunday, Havre, Malta, Miles City, Broadus, and Sydney are seeing the worst impacts with Unhealthy levels of air quality. Cut Bank and Lewistown are seeing air that is considered Unhealthy for Sensitive Groups. Great Falls and Billings are enduring Moderate air quality.
By Monday afternoon, the HRRR Smoke model indicates that smoke concentrations will gradually improve over the west, while eastern Montana will still be dealing areas of smoke.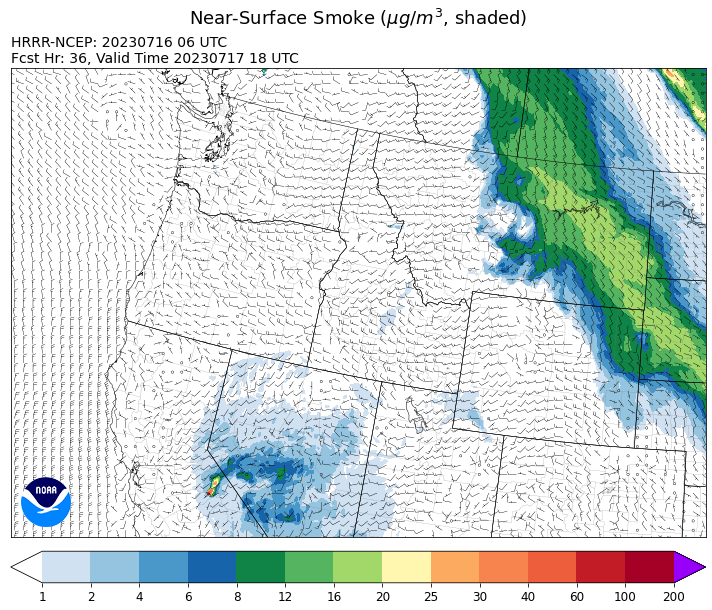 Source: HRRR-smoke
Forecast
An area of low pressure over central Canada has begun to weaken and shift east. However, it is still close enough to western Canada wildfires to funnel plumes of smoke into much of central and eastern Montana. The northwesterly flow will continue again Sunday. The smoke is also creating areas of limited visibility and haze, particularly over the eastern third of the state. Late Sunday, the plumes of smoke will start to thin out, even in eastern Montana. By Monday afternoon, high pressure begins to build. This will help to finally cut off Montana from the source of the smoke. Temperatures should warm rapidly under the ridge, as air quality gradually improves.
Conditions can change quickly as weather could stimulate active fires and the likelihood of new starts increases. Please keep track of concentrations at todaysair.mtdeq.us or the Fire and Smoke Map.
Smoke is clearly visible on this satellite image from Sunday morning as Canadian wildfire smoke produces areas of unhealthy air.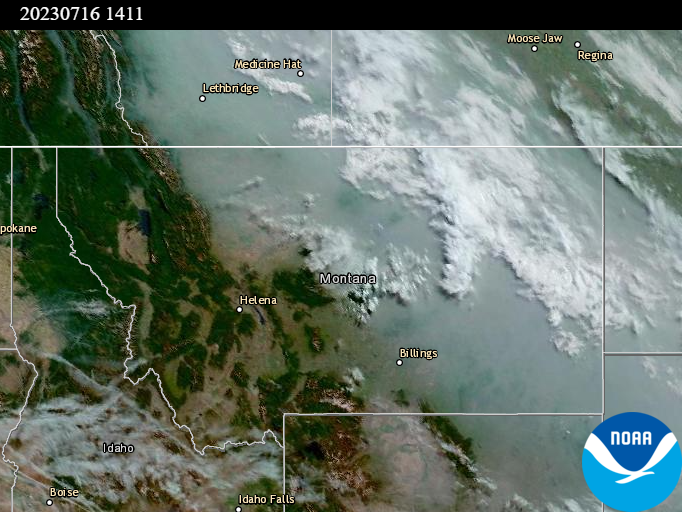 Source: NOAA
---
Tags: Smoke Forecast 2023